Yesdex 57-in-1 S2 Steel Bits Precision Screwdriver Set $12.20 + Delivery ($0 with Prime/ $39 Spend) @ YD Choice via Amazon AU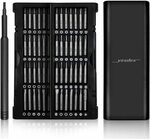 Lightning deal on Yesdex precision screwdriver set, The price after applied 12% off coupon.
Descriptions

Compatibility for popular electronics repairing including smartphones, iPhone, Macbook air, iPad, laptops, computer, eyeglasses, toys, PC, watches, game consoles and most handheld devices
About this item
【High Hardness & Anti-rust】 Precision screwdriver set Made of S2 tool steel, hardness up to 60HRC (Tolerance:±2HRC), extraordinary hardness, superior toughness with high quality
【Multi Use Bits】56 precision screwdriver bits includes different sizes of Philips, Slotted, Security Torx, Hex, Pentalobe, Torx, Triangle, Y tri-wing, Fozidriv, Square, U-Type to cover wide range of different applications.
【Ergonomic Design Handle & Magnetic Design】 The Magnetic handle is made of aluminum alloy, anti-skid design with rotary cap for precise turning and control.It allows you to take down and reassemble the bits easily
【Wide Applications】: 56pcs high quality S2 screwdriver bits applicable to most modern Electronics, Laptop, Mobile Phone, PC, Apple ( Mac Pro & Air, MacBook, iPad, iPod, iPhone series), Watch, Tablet, Glasses, Cameras, Toys & Model, etc.
【Rotatable Aluminium Handle】: Ergonomic Design and well-made handle with the anti-slip area and free-spinning cap could keep the screwdriver no shake when working, a mini magnet inside can provide magnetic for the bits any time. The handle will not grind hands when long-lasting work. Precise enough for technician need, it's better to control by your finger for its rotatable end cap and anti-slip area.
Contents
9 pc – Phillips: PH00000, PH0000, PH000, PH00(small), PH00(large), PH0, PH1(small), PH1(large), PH2

4 pc – Torx: T2, T3, T4, T5

7 pc – Security Torx T6H, T7H, T8H, T9H, T10H, T15H, T20H

6 pc – Slotted: SL1, SL1.5, SL2, SL2.5, SL3, SL4

4 pc – Y Tri-wing: Y0.6, Y1.5, Y2, Y2.5

3 pc – Square: SQ0, SQ1, SQ2

9 pc – Hex : H0.7, H0.9, H1.3, H1.5, H2.0, H2.5, H3.0, H3.5, H4.0

3 pc – Pentalobe: P2, P5, P6, 2mm

2 pc – U-Type: U4, U6

4 pc – Fozidriv: PZ000, PZ00, PZ0, PZ1

3 pc – Triangle: 2.0, 2.3, 3.0

1 pc – Mainboard Size: 1.5

1 pc – Aluminum alloy Handle with magnetic socket