Wowstick SD Combo 22 in 1 Precision Screwdriver Set US$9.99 (~A$14.52) AU Stock Delivered @ Banggood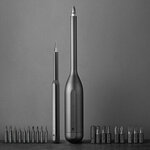 If you missed out on yesterday's Xiaomi deal then you can grab the Wowstick version for a good price. This one has both a precision screwdriver and a regular screwdriver with the latter storing some of the screw bits in the handle.
Apply the coupon BG806a8e at checkout
AU$ based on current Mastercard rate and free shipping.