[QLD] $7 4 Six Packs Bundaberg Rum & Cola @ BWS (in Store)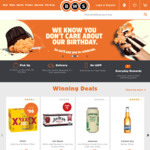 IN STORE ONLY. DOESN'T WORK ONLINE.
There's a pricing error that occurs when Bundaberg rum and cola 6 packs are scanned 4 times. Instead of reducing the cartons-worth down to carton price it will drop to $7. (Works with Bundaberg rum and cola zero as well)
This will ONLY work instore in QLD.
Only works on 4x 6 packs of Bundaberg Original rum and cola. Note: this will not work if sold as carton, it must be entered as 4x 6 packs.
Get instore quick before they fix the price error… They'll be on this quite quickly.