Free nbn 50/20 from More for Eligible Conditionally Pre-Approved Home Loan Applicants for 3 Years @ CommBank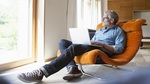 CBA is offering eligible conditionally pre-approved home loan customers (who then find a property and fund $250,000 or more between 31 May 2022 and 31 December 2022) with access to a free nbn plan for three years. The 36 month nbn plan could save eligible home owners over $2,700.
The 50/20 plan is free which is $77pm.
Need to pay the difference to access higher speed plans.
Terms:
Offer of $77/mth off the More XL Speed Boost nbn™ plan standard price for 3 years is for customers with conditional pre-approval of an eligible home loan who then find a property and fund $250,000 or more between 31 May 2022 and 31 December 2022. Offer is not available for Construction Loans. Offer must be claimed by 30 June 2023. Customers may upgrade to a faster More nbn™ plan at any time, in which case the customer must pay the additional plan fees above the $77/mth discount. If a customer wishes to select a cheaper plan, they will pay $0/mth for 3 years but will not receive a cashback for the difference. If the More XL Speed Boost nbn™ or any plan of the customer's choosing has its features or pricing changed, customers will be notified. In the event that the customer's plan of choice is no longer available, they will be notified and switched over to a comparable More nbn™ plan with terms and pricing closest to their existing plan and the offer will be applied to that plan. The offer may not apply in conjunction with other offers or discounts. Limit of one offer code per borrowing entity (e.g. individual, joint borrowers, company) and per customer. Limit of one offer code per joint application. Customers must maintain their home loan with CommBank and have a CommBank credit card or debit card to use the discount. This offer does not have to be used at the property that is being funded, the customer can choose to use the discount at any address where a More nbn™ service is confirmed as available. The promotional period commences from the day that your nbn™ service is activated on the nbn™ network. After 3 years the cost of your plan will revert to the Recommended Retail Price (RRP) current at that time. The RRP of More nbn™ plans are subject to change. The offer does not apply in relation to any modem charges, nbn™ New Development Fee or nbn™ New or Subsequent Copper Line charges or any fees in respect of additional services or usage. If you sign up, More will be your service provider for your nbn™ and will handle all technical enquiries, complaints and servicing. The provision of your nbn™ service will be subject to More's standard terms of service and policies, which are available here on the More website. We reserve the right to withdraw or substitute this offer at any time.